Laser Tag Facts
In the laser tag industry, there have been more than a few 'alternative facts' flying around, spread by misinformation and fake news. It's time to correct the record.


We hear time and time again that other manufacturers say they are the largest. Don't believe the alternative facts. While it may be true in some territories, Zone remains the
largest global laser tag manufacturer.
Why does it matter? When you're investing in a product, you want to be sure the brand is known, trusted and reliable. With over 900 active indoor laser tag centres, along
with several hundred more portable systems, you can trust that Zone knows laser tag.

Fact: Vests are quicker to put on and far more comfortable than Ponchos.
Most other companies offer over-the-head laser tag ponchos. Why? Because they're cheaper and easier to make. However, it's the operator that feels the downside: longer kit-up times, complaints from customer from pulling hair, earrings, and glasses – as well as sore shoulders from hard shoulder plates.
In 2006, in conjunction with professional seamstresses, Zone developed a highly comfortable vest design that clips easily from the front. The vest fits the form, while the weight rests more comfortably over the shoulders without hard shoulder plates.
Don't believe the alternative facts. Vests are quicker and easier to put on, saving you time and money. They are much more comfortable and don't catch on hats, glasses, hair or earrings. Give your customers the best laser tag experience.
| | |
| --- | --- |
| VEST | PONCHO |
| ARE easy to put on and save time | TAKE up to twice as long to put on |
| DON'T catch on hats | CATCH on hats |
| DON'T catch on glasses | CATCH on glasses |
| DON'T catch on earrings | CATCH on earrings |
| ZONE vests don't cause sore shoulders | CAUSE sore shoulders |
| ARE comfortable for women | CAN be uncomfortable for women |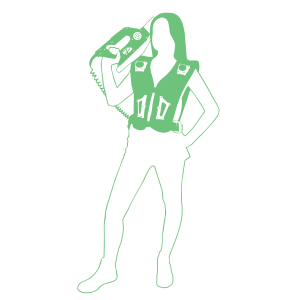 Fact: Zone has the ONLY colour touch screen in the industry, with animations, tag recognition, and important game information.
Some companies claim that there's no point to a screen on the phaser. They say they are useless and distract from gameplay. They say that phaser screens break. Don't believe the alternative facts. Only those who don't know how to implement a phaser screen will argue that it's not needed.
Zone's Helios Pro touch screen is housed in anti-shock, antistatic rubber housing and protected by a solid plastic plate—in addition to the built-in vandalism abuse protection. Millions of game hours have been played on Helios Pro with near zero breakages.
Since 1987, with the development of Phasor Strike, Zone has included a screen. Nowadays, children grow up familiar with touchscreen devices. Laser tag is about the experience of another reality, an immersive game. It's essential to know how well you're doing at any given time in a game – that's why all computer games give you a score, a rank, a game time.


Fact: Zone laser tag is the ONLY laser tag manufacturer to wow customers with a brilliant 13mm green laser.
Some companies would have you believe that the size and colour of the laser makes no difference to the laser tag experience. It's in the name: having the best, brightest laser is essential for laser tag.
Players want to see where they're tagging, and they want to see their laser. Here at Zone, we don't shy away from giving the customer what they want: laser tag.
Zone once again leads the industry with the largest laser of any manufacturer. We pride ourselves on innovation, and giving the consumer the greatest experience. That's not at any sacrifice of safety: Zone's lasers exceed all safety regulations.

Don't believe the alternative facts.
Players love
Helios Pro's
FAT 13mm laser beam because it's bright and brilliant. It brings the game experience alive with lasers flying everywhere – just as it should be.

Fact: Zone leads while the rest of the industry plays catch up.
Some push the idea that laser tag manufacturers are the same, that they all innovate equally. Since Zone's first system, developed over 30 years ago, we have been pushing the industry forward with new innovations and technological advancements. Don't believe the alternative facts. Every innovation has been painstakingly researched and developed by Zone – and then copied by the competition.
This is a list of industry firsts that Zone implemented—in 1991. Imagine what we have done in the 26 years since as we have grown and technology has advanced.
Red diode lasers
Dallas button membership
LCD screen
Multiple hit-zones
HAL button for game start
Self-diagnostic system
Stuns
Score handicapping
In-game handicapping
Operator programmable games
Radio scoring uplink
Automated smoke machine control
Automated arena lighting control
Automated power control
Auto music control in game
So many of Zone's innovations have become industry standards for decades. Like Version 3 in 1991,
Helios Pro
is bristling with industry firsts:
13mm green laser
Touch screen phaser screen
Photo/Avatar tag recognition
In-game touch-screen device (Gamestation)
Programmable in-game quizes
5G WIFI

Fact: Zone has the largest competition laser tag scene.
Have you heard of competition laser tag? Well, if you haven't – you sure will soon! Competitive Laser tag is the fastest growing next-generation sport, played in countries all over the world – with Zone leading the way. Here are the facts:
The largest competitive scene of all the manufactures
The longest running national or transnational competition – active since 1999
National competitions in Australia, USA, New Zealand, Finland, Sweden, France, Singapore and the UK
The largest competition ever held in 2017 with 33 teams and over 230 competitors
The only genuine world's competition, established 2003
Large cohort of female players
Some companies insist that competitive players drive away business, but that's simply not true. Around the globe, hundreds of leagues are successfully run every year, running on quiet nights, encouraging repeat play and a reliable income.
Ask yourself, do you want to be left behind on an inferior product as this exciting sport grows into the mainstream?
There's a reason the Zone competition scene is so successful: the gear. Zone designs laser tag with key competitive features that players love.
Instant hit feedback
Accurate tagging
Large statistical basis for gameplay analytics
Ergonomic lightweight vest
Thin and manoeuvrable design
Dedicated competition scoreboards
All day battery life
Holds up to repeat play

Fact: You can play laser tag in comfort – with Zone.
Don't believe the alternative facts. Not every laser tag pack is the same. Be sure to try them all on before deciding, and you will see for yourself why Zone is the industry leader.
It's often assumed that playing laser tag means putting on a sweaty, heavy, bulky, uncomfortable device. All companies insist that theirs is the most comfortable. Here's why you should choose zone: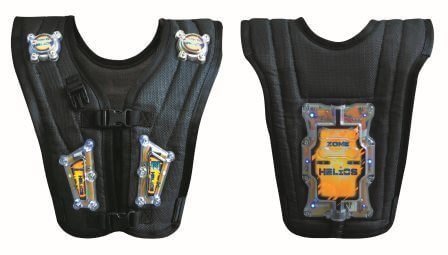 | | |
| --- | --- |
| Zone | Other Major Manufacturers |
| HIGHLY comfortable ergonomic vest | OUTDATED poncho design |
| SEPARATED front plastics ensures a hugging fit | SINGLE bulky chest plastics |
| HIGHLY manoeuvrable – perfect for competitive play | BIG bulky plastics |
| NO sore shoulders | HARD plastic or metal plates over the shoulders |
| FITS comfortably over the bust | SITS uncomfortably on the bust |
| GREAT for all body types | You decide… |

Fact: It's easy to be reliable when you don't innovate. Zone achieves both.
There is one 'alternative fact' narrative that we cannot stand to hear: that Zone is an unreliable product. It's time to put it to rest. This assertion is not only false, but absurd. Zone is by far the largest global manufacturer of laser tag products. We have sites still running and making money with 20 year old equipment. It's simply not possible for us to survive with an unreliable product.
Our packs have been tested under the most ruthless conditions and stress tested to make sure your laser tag attraction won't buckle under abuse or rough play.

Laser tag is a commercial operation and your equipment will see play day-in-day-out. It's inevitable that things go wrong from time to time, no matter what equipment you have. The key is in minimising downtime, so you can continue making money. Here's how we keep our operators running strong:
The toughest plastics to protect vital circuitry
Low profile to minimise bashing against walls
Woven polypropylene mesh vest – flexible, comfortable and strong
Extensive quality testing
All day battery life
Adjustable vandalism abuse detector
Self-diagnostics running every game
Immediate notification of issues (not waiting for a daily report)
'Swaptronics' – easy replacement of boards and cords without glue or solder
Suite of maintenance and training videos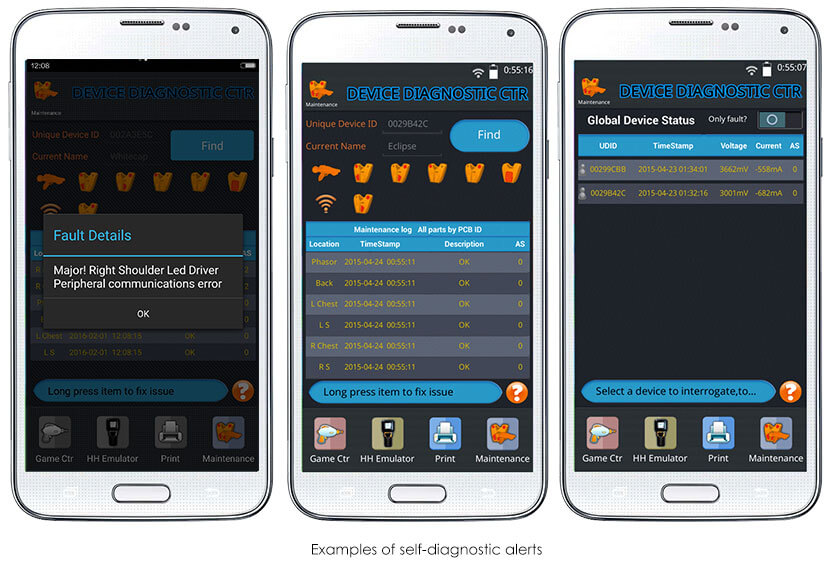 Fact: Only those with the best laser tag experience will survive – Zone provides that experience.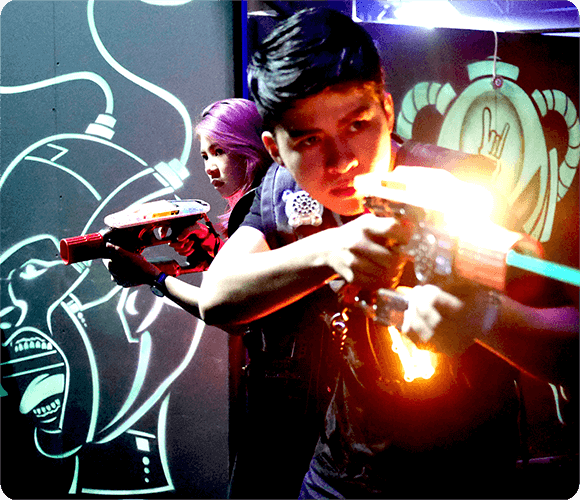 "As long as it shoots lasers, the players won't care." We hear this from time to time and it couldn't be further from the truth. Players crave an immersive, exciting,
diverse and fair game experience—when you provide that, they will come back time and time again.
Instant hit recognition
Accurate tagging
Photo/avatar tag recognition
Large statistical set for gameplay analysis
Fun and fair gameplay – built-in optional handicapping
Achievements, XP and rankings
Foolproof magnetic triggers
More varied games than any other manufacturer
The proof is in the pudding:
The only company to boast a true World's competition
The largest competition scene in the world
Players from competitor sites travel to play at Zone competitions
Robust league scene
Thousands of members worldwide